The Humiovi, pronounced Hoo-me-oo-vee, has been locally owned and operated in Sedona, Arizona for over 30 years. We have been licensed by the Hopi Tribe and situated on the corner of 89A and Jordon Road since the early 1970s. Each item in our store is a handcrafted, one-of-a-kind piece. Phone orders welcome! All online orders ship to U.S. addresses only. International shipping available.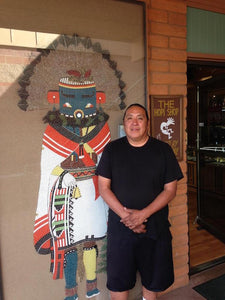 Artist Spotlight
Darren Seweyestewa is from the Coyote Clan of Hotevilla and is the oldest of four children. Growing up, he always loved art. His interest in jewelry making began while he was working in the restaurant at the Second Mesa Cultural Center. There, he was able to watch other Hopi silversmiths and learn about their craft. That led to his decision to teach himself the art of Hopi jewelry making. He started the traditional way, by first working with copper. Using tools, some of which are still handmade, to bend the material and etch the designs. One day, he showed his work with the copper to another Hopi silversmith and he told Darren to get himself some silver and start making jewelry asap! Needless to say his talents were quickly realized by other renowned Hopi silversmiths and continue to be today.
Darren has been making jewelry for The Humiovi for over 20 years. On his down time, he can be found passing on his knowledge and talents to one of his three children or one of his four grandchildren. He is more than just a business partner, he is a very talented friend and we at The Humiovi are pleased to introduce him to you in our Artist Spotlight.
Uptown Sedona
247 AZ-89A
Sedona, AZ 86336
Mon - Fri: 8am - 6pm
Saturday: 10am - 8pm
Sunday: 11am - 5pm
928-282-5259
Directions